We have been able to maintain cordial relations with our valuable customers by providing them with a qualitative range of Mechanical Foam Fire Extinguisher and Portable Mechanical Foam Type Fire Extinguisher. Suitable for 'A & B' Class Fire Papers, Wood, Paints, Gases, Chemicals, Petroleum Product.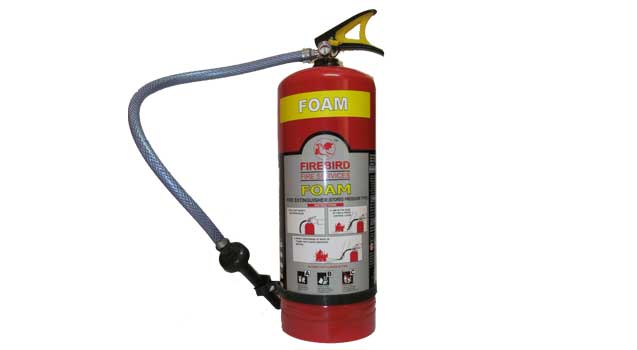 IS Specification
IS 15683: 2006
Capacity
9 Ltr.
Construction
Manufactured out E.D.D. Quality Seamless Bottom Welded
Charge
Foam Compound
Anti corrosive Treatment
Internally - Lead Tin Coating by electrolytic process. Externally -Lead Tin Coating with Fire Red Paint.
Accessories
Wall mounting brackets.
Operation
Pull out Safety Pin, Detach hose from the bracket and aim at the base of fire while Holding.
Maintenance

The Fire Extinguisher must be maintained as per IS : 2190 For satisfactory performance.
Easy to use.
PERFORMANCE DATA

MODEL

9

Capacity

9L

Fire Rating

4A : 34B

Average discharge time

50 sec

Height (Approx.]

575 mm

Diameter (Approx)

180 mm ± 10 mm

Filled weight (Approx.)

12.5 Kg.

Empty weight (Approx)

3.8 Kg

Operating temperature

+5°C to + 55°C

Working Pressure at 20° C

15 bar

Maximum Service Pressure

17 bar

Test Pressure

35 bar

Approval

BIS